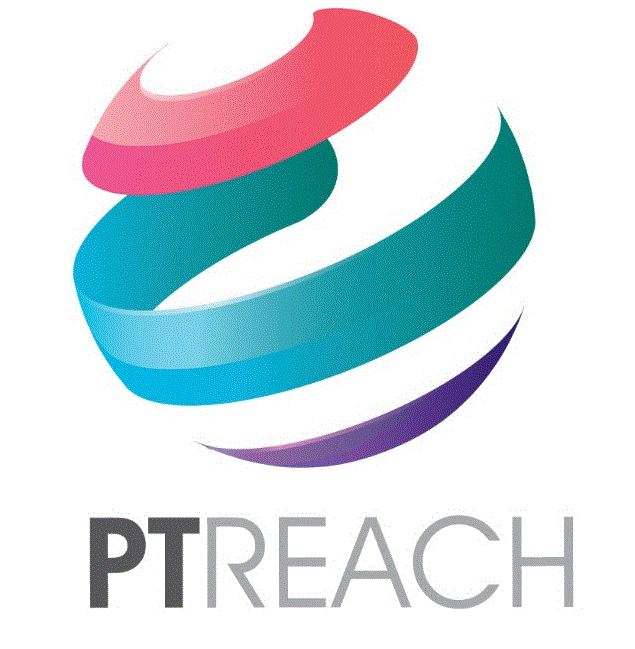 About PT Reach
PT REACH INTERNATIONAL (M) SDN BHD
PT Reach International  has been involved in multiple lines of businesses which are already actively started and ongoing. One of the core business is providing effective and holistic solutions in securing assets for utility companies in Malaysia by analysing our clients problems and needs, and formulating an effective Defense Strategy for them. PT Reach International (M) Sdn Bhd has engaged directly with our Principal & Manufacturers from overseas and act as a trusted sole distributor of Inner Tite Corporation USA , Highfield Corporation USA and Tapplock Corporation Canada. PT Reach has continuously introduce new effective solutions that has been used in USA utility companies to Tenaga Nasional Berhad , Sarawak Energy Berhad,  Perusahaan Listrik Negara Indonesia and also other utility such as Syabas for water utility and Telekom Malaysia , Maxis for Telecommunication. We also work with the vendors of the utility companies to support the implementation of the defense strategy  we proposed to our clients.
Our Management 
PT Reach International  is a young energetic company  that has a talented management team where most of the management team members possess either oversea and local degree qualifications and good experience background that can assist the company to grow bigger with the 5 main pillars set by the management. Our company believe that the good and talented staff and management are a crucial factor in ensuring that the company's capability  to face future challenges sucessfull and will make the company grow stronger everytime.
Our Vision, Mission & Tagline
Company Vision : To be a Premier Company that is well known for its Exclusive and Innovative Security Products & Defense Strategy Solutions in both physical and cyber security specialized for utility industry in ASIA.
Company Mission : To offer the most value for money products that exceed expectation in global market through 5 core pillars: Unique, Innovative, Futuristic, Automated and Green.

Company Tagline : Reach For The Future.
Our Company Information
Date of Incorporation : 2015
Authorised Capital : Unlimited
Paid Up Capital : RM 2.2 million
Company Secretary : Awra Consultancy Services
Head Office : PS-S-05(1)  Pearl Avenue, Jalan Pasir Emas, 43000, Kajang , Selangor Darul Ehsan, Malaysia
Branches : No 41-1  Jalan Cocodrive 2 , Taman Bandar Senawang, 74500 Seremban , Negeri Sembilan, Malaysia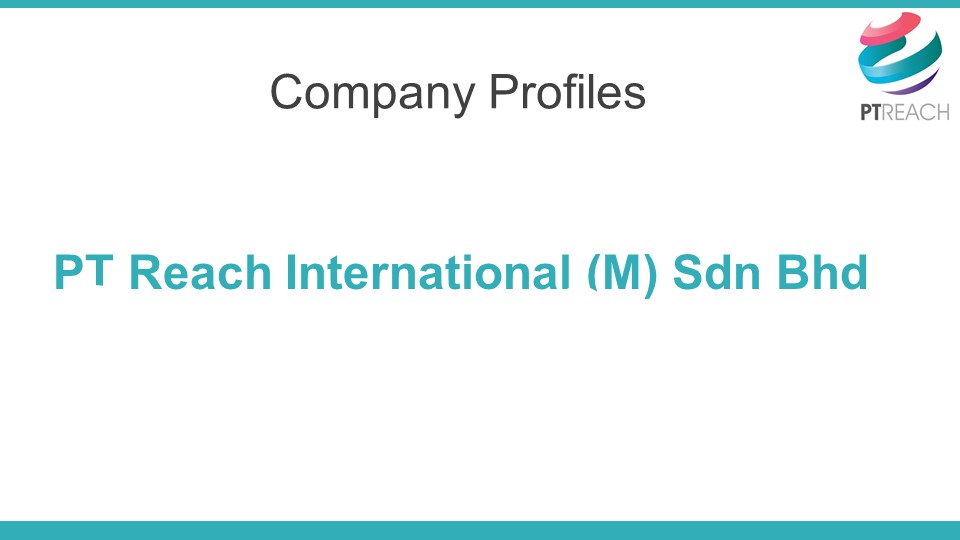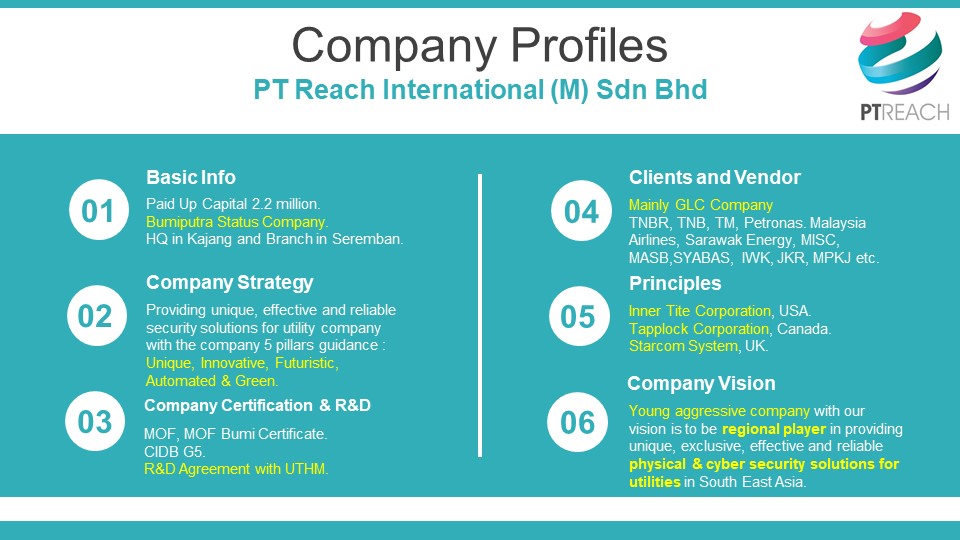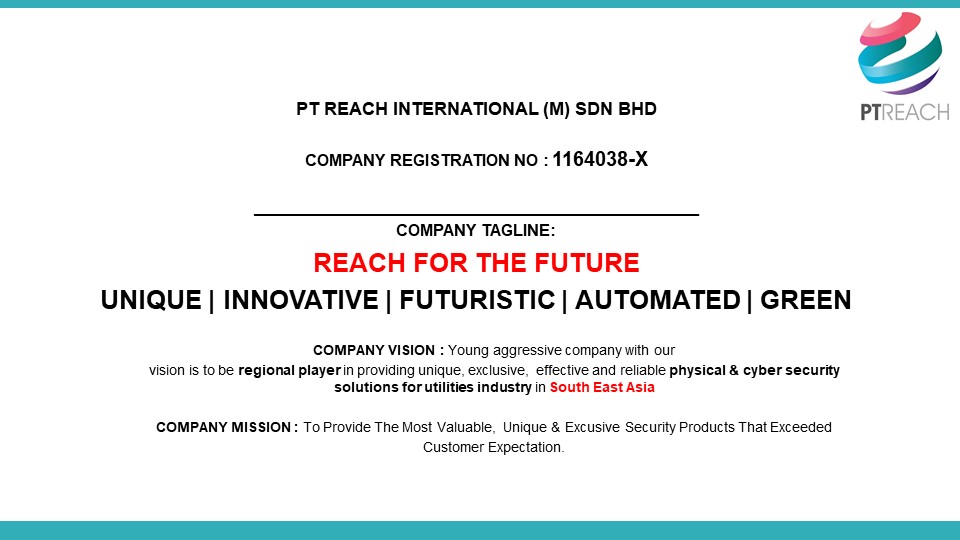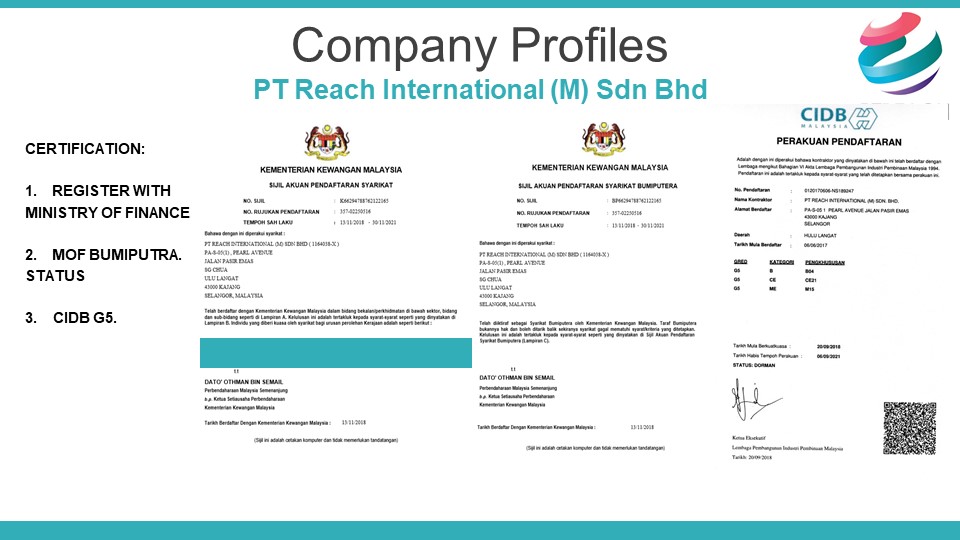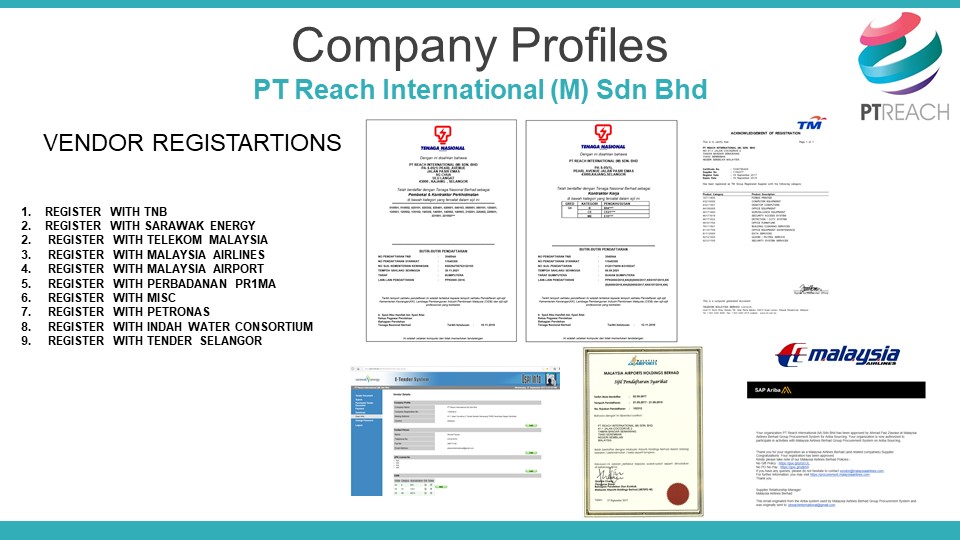 Our Research and Development 
PT Reach International  is cultured to be flexible and adaptive in providing the solutions to our client. The company Research & Development Team has  collaborated with professor and personal from UTHM for the expertise in this area. This is very crucial for us to ensure that the company is not just selling security products but more towards providing proven and effective solutions to our corporate clients and to meet our client demand and requirements. With our  R&D team and our range of unique security products and solutions, we will be able to formulate our recomended Defense Strategy to utility companies.  R&D is a core function in PT Reach to ensure the security issue faced by our clients to be properly analyse by R&D Team and to tailor the effective Defense Strategy solutions accordingly.
In addition, PT Reach International is also planning to produce our own products under "RENTAKA"  brand for our retails market globally. The future production of our own products will be focusing on Biometric and Internet of Things Technology and we hope we can provide better and advance security for the society with our line of products. Moreover, we also exploring to study and develop Cyber Security solutions for utility in the future.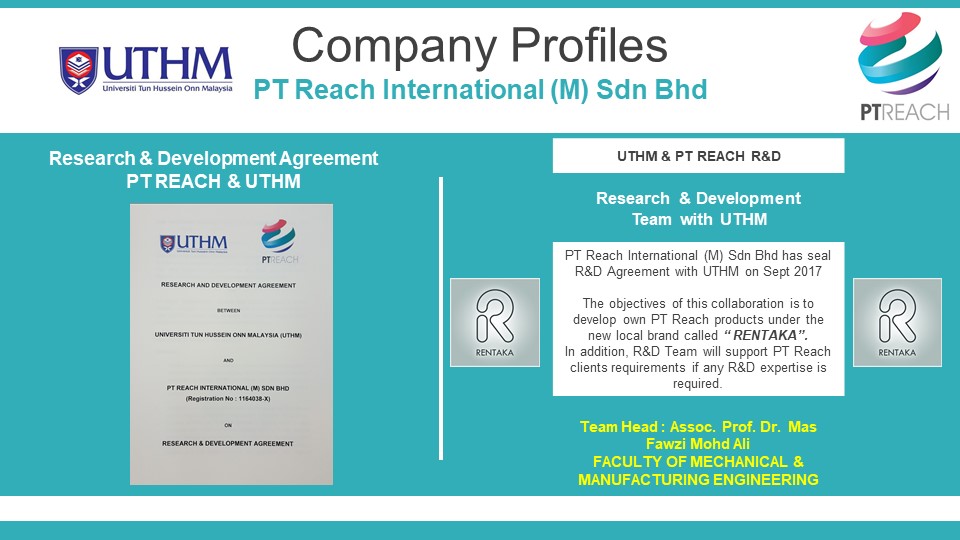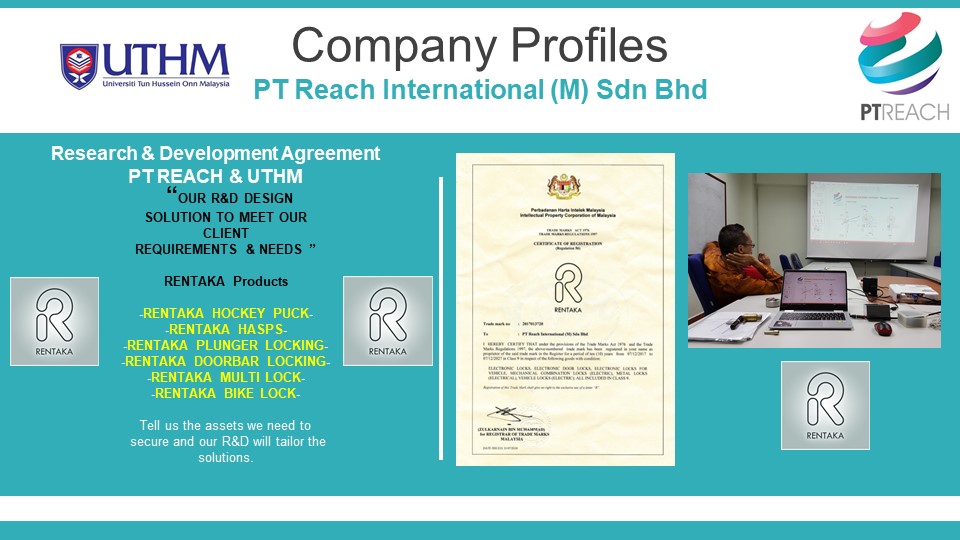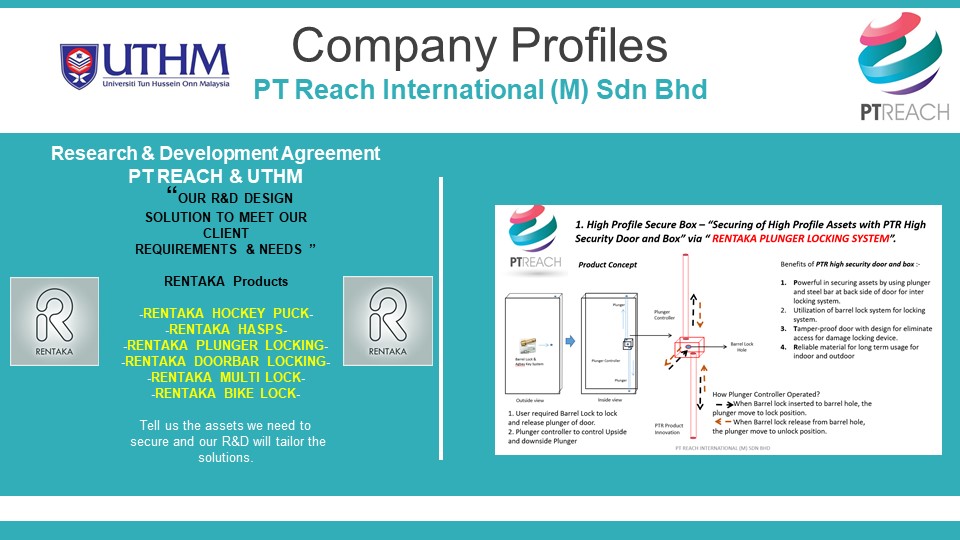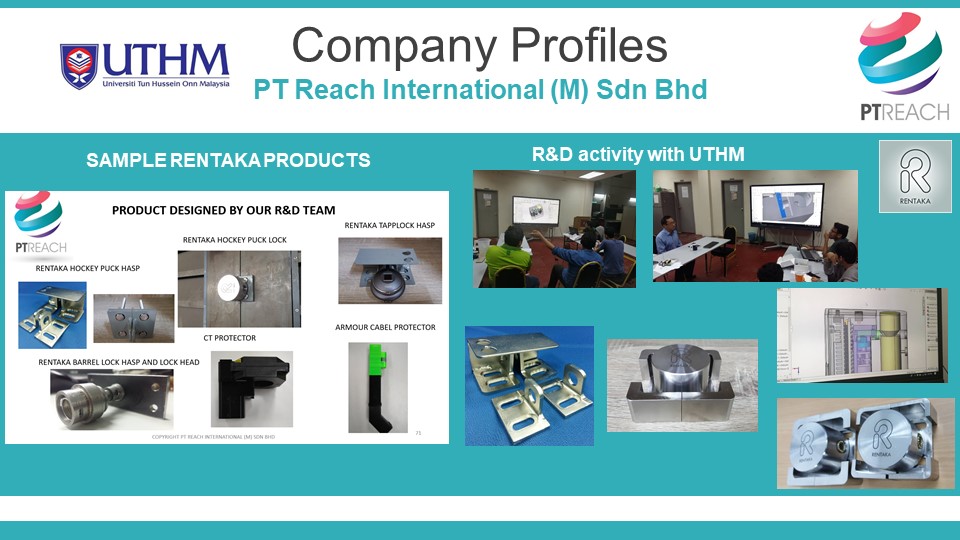 Our  Business
PT Reach International is focusing on multiple business lines but the main business is on providing security solutions for commercial and retails market. In commercial market, we are actively introducing new security solution to GLC companies in Malaysia such as Tenaga Nasional Berhad , Telekom Malaysia, Malaysia Airport and Petronas. Our products consist of solutions that we bring in from various countries overseas and also  our own innovative products that are  produced under "Rentaka" brand.
For our retails market, we have been appointed as sole distributor of Tapplock product by Tapplock Corporation, Canada. Tapplock is a world's first fingerprint padlock that can communicate to the apps of the smart phone such as Play Store and Apple Store. This new technology padlock was launched in May 2017. The company has successfully be a sole distributor for Tapplock in Malaysia and now the marketing expansion of this product is run by our subsidaries company , Tapplock Malaysia Sdn Bhd.
Our company has also engaged with oversea manufacturer to bring in few others products such as Watchlock and Noke Lock . Watchlock is a lock that can be track by GSM , GPS and Satellite. We are appointed as one of Watchlock distributor in Malaysia by Starcom Corporation USA. We are currently collaborate with VIAIQ Corporation California USA on integration of the Watchlock to their Fleetholder System and we are now proposing this combined solutions to Coca Cola Indonesia to help to in tracking container for Coca Cola Indonesia. With the support with our subsidiaries company in Indonesia, PT Reach Internasional Indonesia, we believe that we can penetrate more businesses in Indonesia market.
Our Subsidiaries
PT Reach International  is also having majority shareholding in the following 4 companies' subsidiaries in Malaysia and Indonesia. This companies is for the future expansion of company business in utility Industries and also property and land investment. In addition, the companies has decided to place the sole distributorship of Tapplock Business to a new company namely Tapplock Malaysia Sdn Bhd for the better management of Tapplock Business Marketing Distribution in SEA.
| | | |
| --- | --- | --- |
| No | Company Name | Country |
| 1. | PT Reach International Corporation USA | United States |
| 2. | Tapplock Malaysia Sdn Bhd | Malaysia |
| 3 | PT Reach Development Sdn Bhd | Malaysia |
| 4. | PT Reach International Indonesia | Indonesia |
| | | |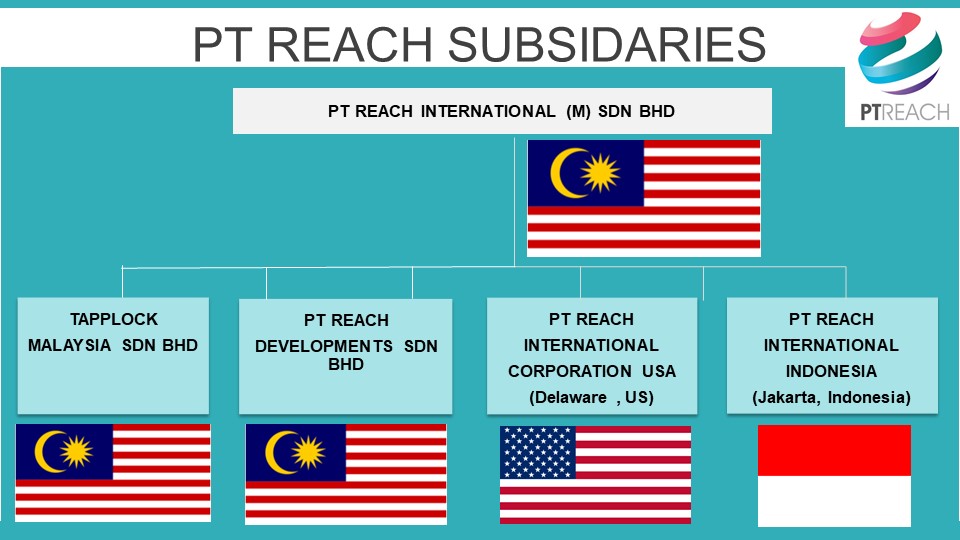 We believe that  PT Reach International has a right pillars and foundations to move forward and the main ambition that we have set is to become a well-known as premier security solution provider company in utility and has its own brand used by global community market around the world.